Construction
Despite the ever increasing business competition in all fields Kingdom wide, Golden Grass Inc. Construction and Maintenance division has managed to stay afloat and maintained its successful operation and services.
This division employs over a 500 skilled who are trained to work to highest standard and have successfully executed various prestigious projects in the Kingdom ranging from HOSPITALS, RESIDENTIAL AND COMMERCIAL Buildings and Pipelines. With our concentration diverted mainly to service, as well as possibly within the business demands of short term contracts that are available. This is mainly due to the completion of infrastructure of the Kingdom.read more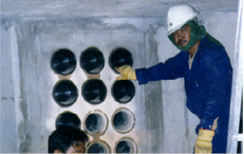 Construction and Maintenance division has gained an enviable reputation for work of the highest standard with a skilled work force of over 450 men, CIVIL, ELECTRICAL and MECHANICAL works at various prestigious projects have been successfully exculted such as:

250 bed hospital GOSI/riyadh, Pharmaceutical project/Gassim, MYAS-Hospital complex-Yanbu, East-West Pipeline IPSA II (IRAQ PIPELINE), various Piece Shield project/khamis Mushayt/ AlKharj Sharurah, etc.

The completion of the Kingdom's infrastructure projects has led to a proliferation of small, medium to short term construction sub-contracts which are well within the capabilities of the Division.